Calibration, colour and processes – what ISO 9001:2015 Quality Management means for you..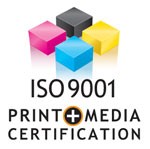 You can be sure that the quality of our products and service will be of the highest standard. Fidelity operates a quality management system (QMS) and we are an ISO9001:2015 certified company, independently audited and verified by a UKAS accredited certification body.
ISO9001 enhances brand reputation and removes barriers to trade. It sends a clear message that Fidelity is a company committed to high standards and continual improvement.
Our commitment to ISO 9001 has resulted in operational efficiencies, increased sales, higher return on assets and greater profitability. It has also helped to reduce waste and customer complaints. In fact, the whole process helps to increase customer satisfaction and retention.
Fidelity has been certified to ISO 9001:2015 for the following scope: the design, production and supply of digitally printed products and the managed production of lithographically printed products, to customer requirements, at the Bedford site. Certification is subject to periodic surveillance and re-assessment.
For further information regarding the validity of the certification please contact Print and Media Certification Ltd on Print and Media Certification Ltd.
For more detailed information on ISO 9001 visit www.bsiglobal.com
Did You Know…
ISO 9001 is an internationally recognised standard for quality management. It was designed to help monitor and control any services and products supplied. It helps to ensure that the needs of customers are met.
ISO 9001 ensures senior management take a strategic approach to their management systems. The ongoing assessment filters into all processes and practices in order to maximise assets and gain a competitive advantage.
It is designed to improve business performance and helps manage business risk. Certification also makes it easier to benchmark and measure performance.